The Pacific Saison 1 Streaming
Regarder en HD
Télécharger
Voir la série The Pacific Saison 1 en streaming gratuit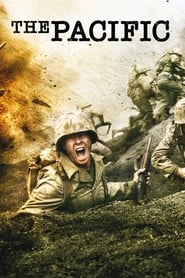 Série créée par

Bruce C. McKenna

Avec :

James Badge Dale, Jon Seda, Joseph Mazzello, Ashton Holmes

Origine :

US

Genres :

Histoire, Drame, Aventure, Guerre, Action, Aventure

Format :

60min

Production :

2010

Synopsis : "The Pacific" (diffusé sur France 2 sous le nom de "Band of Brothers : L'Enfer du Pacifique") est basé sur deux mémoires du Corps des Marines des États-Unis : "With the Old Breed at Peleliu and Okinawa" d'Eugene Sledge, et "Helmet for My Pillow" de Robert Leckie. La série raconte les histoires des deux auteurs et du marine John Basilone, dans leur guerre contre l'Empire du Japon. Elle nous fait plonger au c?ur de certaines batailles connues telles que la bataille de Guadalcanal, la bataille de Peleliu, la bataille d'Okinawa ou encore la bataille d'Iwo Jima.
---
1,359
Posté le 25/05/2020
Categorie: